Science, Anthropology, and Education
Albert Einstein: Exploring the Realm of Physics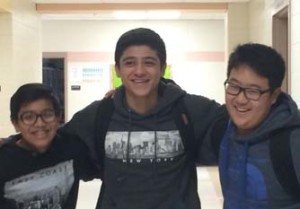 Eighth graders (left to right) Faraz Karim (13), Ali Rajabi (13) , and Justin Kim (14 ) prepared a website about Albert Einstein as a project for National History Day at Lime Kiln Middle School in in Fulton, Maryland.
Women in Science– Women in Evolution
http://storyofwoman.org/about-story-of-woman/
The School for Advanced Research
in Santa Fe, New Mexico, is a unique think tank that supports anthropological scholarship.  The campus is gorgeous, has a fascinating history, and includes the very special Indian Arts Center: www.sarweb.org
To keep current in paleoanthropology
see the following links:
www.johnhawks.net/weblog
www.bbc.com/earth/story/20140907-does-music-pre-date-modern-man
nautil.us/issue/17/big-bangs/digging-through-the-worlds-oldest-graveyard
The Physical Anthropology Women's Mentoring Network (PA WMN)
creates connections among the members, provides contact information for women at different professional levels, and coordinates regular meetings that allow network members to get to know one another. This group is a "safe zone" for inquiring about and discussing all issues relevant to women in physical anthropology at the graduate level and up. Permission for access may be requested at
Facebook: www.facebook.com/groups/pawmn/
LinkedIn: http://goo.gl/BjX9yf
For news at a broad scientific level
read ScienceNOW: www.news.sciencemag.org/sciencenow/"
To keep track of the debate about teaching evolution in public schools
visit the website of the National Center for Science Education: www.ncse.com
To learn about the benefits of cosleeping with your baby
visit the website at: cosleeping.nd.edu
Favorite article about Einstein
by Frederick Lepore: www.dana.org/news/cerebrum/detail.aspx?id=3032
Writing and the Arts
For great reads by a true adventuer, try Jon Kalb's books.
Most recently, Hunting Tapir During the Great Flood: And Other Tales of Exploration and High Adventure (2012). Visit: www.jonkalb.com
Best place to take dance and aerobics classes in Santa Fe, NM,
My favorite Santa Fe artist (also an amazing dancer)
Up-and-coming artist, Yoshiko Murdick
Art columnist, Ben Davis