I am an avid and eclectic reader (or, as my mother used to say, "in one eyeball and out the other"). I enjoy mysteries, detective stories, historical novels, biographies, adventure stories, psychological thrillers, and novels about academics.  Having become old enough to realize that life, truly, is too short, I no longer make myself finish so-so books—even if I have shelled out perfectly good money for them.  Below, I mention only fabulous reads. For each one of these, I estimate I have read 3-4 other merely okay reads.  As I said, life is too short.
—Dean Falk
November, 2013
Who can resist a female math savant with flaws?
On The Floor, by Aifric Campbell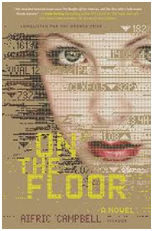 Written by Irish writer and former director of the London trading floor, Aifric Campbell, this is a stay-up-all-night read. The psychological portrayal of its heroine, Geri Molloy, is fascinating. We root for her as she navigates (and we learn about) the male-dominated world of high finance. Will there be a sequel? I hope so because Campbell left us hanging. Meanwhile, I'm going to go find an earlier novel that she wrote (The Semantics of Murder).
October, 2013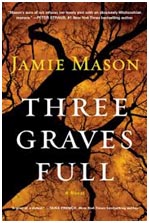 I've found a wonderful new author and cannot wait for her next book:
Three Graves Full, by Jamie Mason
This is a fantastic psychological thriller that is highly original. Jamie Mason's story bent my mind to the point where I was laughing aloud at the most in appropriate places. (Her portrayal of the mind of a dog is also highly entertaining.) The word that comes to mind in describing both the nail-biting story and the writing is skill. Move over John Burdett!
February, 2013
It's not that I haven't been reading for pleasure since October, it's just that I haven't read anything that wonderful – at least until this twofer crossed my eyeballs:
An Object of Beauty, by Steve Martin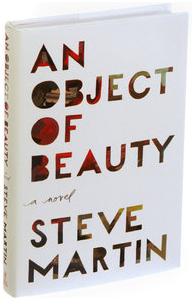 Although I knew that Steve Martin was a great comedian and was vaguely aware that he also played the banjo, I had no idea his creativity stretched to writing amazing novels. This book (published in 2010) tells a gripping story about a complicated young woman caught up in the East Coast fine art world from the early 1990s until recently. In addition to an intriguing plot, it has a lot about art and the art business, and includes images of over 20 works of art. Who'd o' thunk that "the jerk" could write such a page turner?
The Last Six Million Seconds, by John Burdett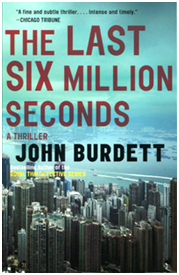 The only thing worse than having a favorite author die and leave you with an unquenchable thirst for more of his/her books (e.g., Stieg Larsson, author of The Girl with the Dragon Tattoo, etc.), is loving the books of an author who publishes new ones too s-l-o-w-l-y. I have read all of John Burdett's novels about Sonchai Jitpleecheep, a police detective in Bangkok. As soon as he publishes a new one, I gobble it down and then have to wait at least a year for another fix. I therefore was eager to read this recently reissued novel, which Burdett first published in 1997, even though it does not feature Jitpleecheep. Happily, the Chief Inspector in this book (one Charlie Chan Siu-kai) is just as interesting as Sonchai (well, almost). The story is a political thriller/triple murder mystery that takes place in the last two and a half months (six million seconds) before Hong Kong is absorbed by the People's Republic of China in 1997. The only bad thing is that now I really am out of Burdett reads.
October, 2012
It's been five months since I've posted anything about recreational reading because I haven't read anything particularly noteworthy. However, the last two books that I've borrowed from the eclectic leisure reading section of our gem of a library at the School for Advanced Research (SAR) made up for the summer lull.
A Case of Curiosities, by Allen Kurzweil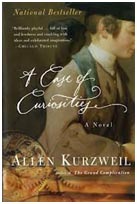 This 1992 book was missing its jacket, so there was no blurb to tell what it was about. The book was signed by the author with the inscription "For the members of the SAR community. Curiosities one and all." I briefly skimmed the first few pages and learned that it was an historical novel centered around the protagonist's acquisition of an antique box of curiosities, which included (among other things) a jar, a button, a shell, a franc, and a morel. Loving museums as I do, I thought I would give the book a try and just not finish it if turned out to be a dud. It wasn't a dud. The book, which is set in 18th-century France, follows the life of gifted inventor Claude Page and his eccentric group of acquaintances. It is a spirited, bawdy, and gripping saga, with many descriptions of archaic mechanical inventions. I couldn't wait to get back home to continue reading it!
The Boy Kings, by Katherine Losse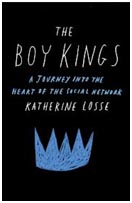 Published in 2012, I found this exposé about the development and inside politics of Facebook fascinating, well written, and a quick read. The narrative seems almost anthropological, and the insights offered about social media are thought provoking and, to some extent, troubling. I wonder if the author regrets departing Facebook before it went public?
May, 2012
Dancer: A Novel, by Colum McCann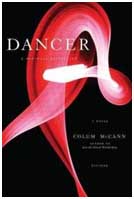 This novel, which was first published in 2003, focuses on the extraordinary life of exiled Russian ballet dancer Rudolf Nureyev. I read it about two months ago and am including it here because I cannot stop thinking about it! The book is steeped in information about the elite world of classical ballet, and its erotic portrayal of the artistic and gay scene in New York that led up to the AIDs era is nothing less than enthralling. This is a gripping and unforgettable read.
April, 2012
Cutting for Stone, by Abraham Verghese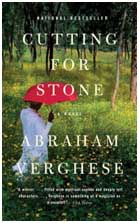 First published in 2009, this is a knockout novel. Its mystical/medical/allegorical/mysterious story of twin boys born to a nun and surgeon takes place in Addis Ababa, Ethiopia and the U.S. (mostly New York City). The twins, named Marion and Shiva, represent the two very different sides of the father who abandoned them at birth — an emotional one that longed for the love of one woman and a dispassionate (Aspeger-like) intellectual who focused on gynecology (how's that for a combination?). The portrayals of Ethiopia are steeped in history, as are the many fascinating descriptions of medical procedures. The unfolding story has drama and mystery that keeps you turning those pages. I do not read books (or see movies) twice. If I did, I would reread Cutting for Stone just for the pleasure of deciphering more of its symbolism.
Children of Time: Evolution and the Human Story,
by Anne Weaver with illustrations by Matt Celeskey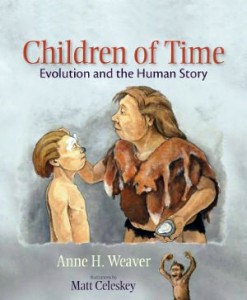 Anne Weaver is a professional paleoanthropologist who also happens to write great science books for children. Her Voyage of the Beetle was a big hit with my grandchildren. Written for middle-school aged children, Children of Time is a series of stories about early hominin youngsters, told from the vantage point of children. Each chapter ends with an up-to-date and accurate section about the science behind the story. This book has scientific integrity and should excite the imaginations of young adventurers everywhere!
Hunting Tapir During the Great Flood and Other tales of Exploration and High Adventure,
by Jon Kalb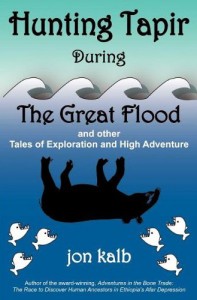 Here is a review of this Hunting Tapir that I wrote for Amazon.com:
I am a huge fan of Kalb′s "Adventures in The Bone Trade," and I also loved his mystery, "The Gift." Now he has written a third book that is even better than the first two. It was enthralling to read about his adventures in the Carribean, South America, Ethiopia, Texas, and elsewhere. Kalb′s lifelong goal seems to have been to make discoveries in the most remote and dangerous parts of the globe—and he has! His humor catches you by surprise. At times I found myself laughing aloud. I also teared up when I read his touching acknowledgment to his wife. My only problem with this book is that it was over way too soon.